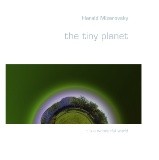 tiny planet photos make you happy
It´s the feeling from Bernstein´s Song "I feel pretty" in this photos. These photos show us how wonderful is our world. We are all living on a pretty little Planet, who´s name is EARTH.
This picture book remind us to save the EARTH, alltogehther now!
The photos are shot between 2009 and 2011 in France and Austria. Architecture and nature was the theme of this picture book.
Here you will find photos from the book.